Serial killers. For the last few weeks I've been consuming any and all media related to serial killers. First I read this book about Charles Manson:

Then I watched this documentary about Aileen Wuornos:
And, finally, I read this book about Ted Bundy:

Of the three, The Stranger Beside Me was my absolute favorite. Ann Rule was an aspiring crime writer in Seattle when she befriended her coworker, Ted Bundy. He was caring and intelligent, and Ann quickly grew to think of him as a younger brother. When news of the murders broke, Ann never suspected Ted. After he was accused, she stood by him, thinking that he was incapable of violence. The book details their friendship during the years that Ted murdered two dozen women, was imprisoned in Aspen, Colorado, escaped to Florida, and was eventually sentenced to death there. It is incredible. What are the odds that an aspiring true crime writer would meet one of the most prolific serial killers, let alone know him closely over many years? The detailed insight that Ann has into Ted's life, crimes, and motivations is so darkly fascinating I can't stand it. I am already proclaiming this my favorite book of 2014.
Aileen was super depressing. Even though the murders she committed were awful, by the end of it you feel sorry for her. Her whole life was a series of impossible hardships. It was definitely good and worth watching, but I walked away feeling majorly bummed out.
I'm now going to say something blasphemous to my fellow true crime aficionados: I didn't really like Helter Skelter. I didn't know anything about Charles Manson or the Manson Family before reading, and it was interesting to learn about this murderous cult that represented some kind of twisted culmination of the 60's. However, I really hated the overblown, self-important way that it was written. I don't know if I should blame Vincent Bugliosi, the prosecuting attorney, or Curt Gentry, his co-writer (ghost writer?) for that, but one of them seems to have an enormous ego that reverberates through every line of the book. I found it hard to read.
I told Tony that I'm going to write a dissertation about serial killers, but it turns out that lots of other people have already done that. Maybe my dissertation could be about why Ann Rule is a better writer than Vincent Bugliosi and Curt Gentry? One way or another, I'm writing a dissertation.
On Sunday, Tony and I went cross-country skiing. It was really fun and really, really exhausting. We skied over 6 miles! After it was over, we went to our favorite restaurant and ate more B.L.T.s and mozzarella sticks than two humans ever should. It was a great day.
In addition to skiing, last week I discovered an amazing cleaning product: Barkeepers Friend. This stuff has been around since 1882–this ain't no here today, gone tomorrow cleaning flash in the pan (speaking of which, did anyone else have a grandma with one of the broom-sized versions of these in the early '90's? I kind of wish I had one.) Our kitchen sink is old, and the porcelain is stained. I've scrubbed and scrubbed and gotten far less impressive results than when I wiped it with Barkeerpers Friend. It's wonderful stuff.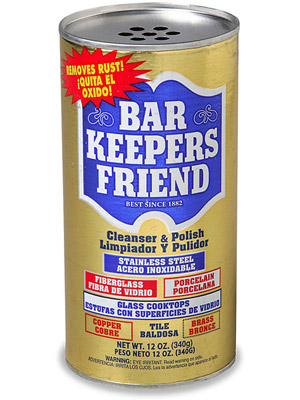 I didn't take before and after pictures of the kitchen sink transformation, so I tried to recreate it in the bathroom. The porcelain was fine in the bathroom, but the faucet was not. Again, the result was pretty amazing:
With an endless  amount of Barkeepers Friend cleaning in front of me, 2014 is shaping up to be a pretty incredible year.